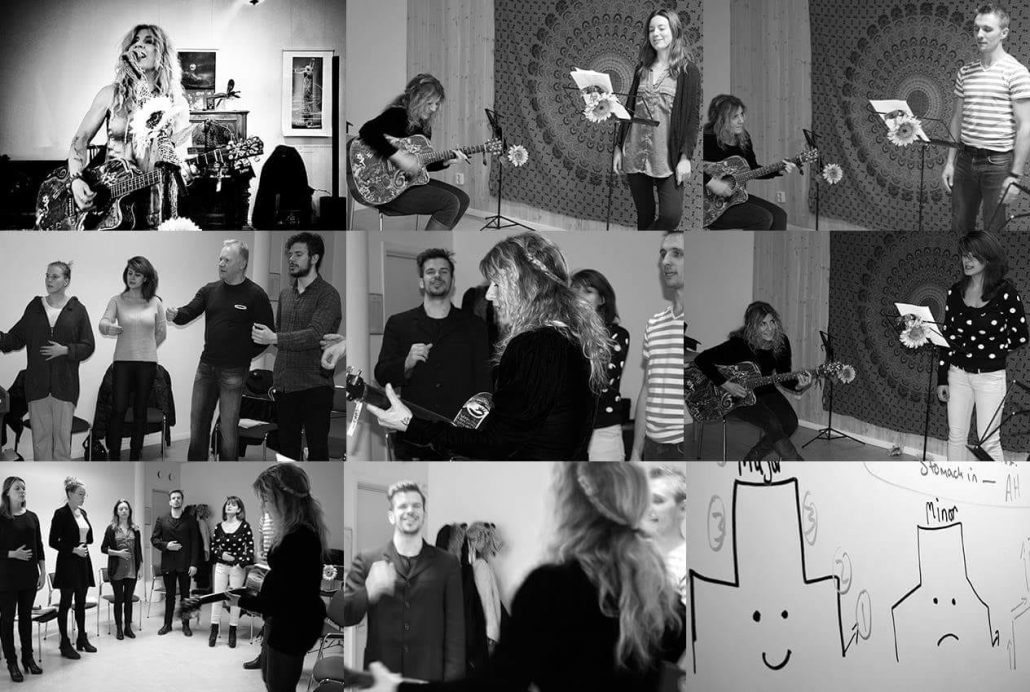 Collage Photos by Terho Aalto (Finland) & Despina Georgiadou (Sweden) Copyright free to use
SING – MASTERCLASS TRAINING WITH AUSTRALIAN VOCALIST KITTO (PERFECT BLUE SKY)
HOW the masterclass works? It's an esthetique spatial way in singing to include all types of vocals and personalities at various levels from beginner to advance! Just like learning to ride a bike or drive a car or doing exercise i.e sit ups etc using muscle memory and repetition until we earn it into our physical body. Anyone can do it. It's more of a sport approach to physical training.
A weekend masterclass is divided into 2 parts. The first day is training in correct breathing, vocal sounds & shapes, Arpeggio scales and discuss-discover how to serve the song and sing it from your own personality hence "I SING TO BE MYSELF"!
The second day is revision of all we have learned from the previous day before and then to assemble the student vocalists as back-up singers, lead or both and each have a chance to do either whilst accompanied by myself on guitar and backups.
It's an amazing feeling to create your voice in this environment safely and confidently in a real music atmosphere. It's a gift from the student to themselves to find their life expression through singing. You won't regret it!
Course overview
Beginners and experienced welcome.
This masterclass is hosted by Australian vocalist coach and lead singer of Perfect Blue Sky Jane Kitto. Her workshop focuses on "Universal Modern Singing". The principles are teaching the importance of how the breath is to a singing performance along with correct pronunciation, modulation, and eliminating "accent" glitches. Kitto also demonstrates how to connect with the song to reflect your personality "Sing to be yourself" and uses an esthetique and visualisation approach. This helps creates an immediate experience for the student in finding their own voice and inner confidence.
Correct diaphragm breathing and muscle control (1st lesson)
Arpeggio training
Vocal Strengthening and dynamics
Vowel, consonant and syllable pronunciation
Soft & Hard Palette, Falsetto
Power stance and vocal projection.
Posture and poise interacting chin, mouth, head and shoulders.
Concentrate on "How to Load" the words, phrasing and where to breathe between the song lines.
Finally there will be a performance song by individual students along with group class interaction (backing vocals).
All exercises are recorded by the students to keep as a training memento for life.
Host a maximum of 15 Students. Seasonal sessions are usually hosted in the late fall/winter (Scandinavia)
Private tuition – coaching is also available.
For more information & contact
E-mail: missnoise@kittorock.com
Student Reviews – 
Recent Event – FINLAND Masterclass Weekend Workshop hosted at at Nooras Winebar, Hämeenlinna on Jan 27/28 2018. Big thanks to Gogo Rodeo, Nooras Winebar, Terho Aalto and most of all the fantastic & brave students who made it a first for Finland!
Marika Rita Student MC FI (Review 5*****)
If you'll ever get a chance to participate to the Masterclass workshop, hosted by these guys DO NOT miss it!!! I participated to the singing workshop in Finland and it was such a great fun and most of all I learned how breathing is the key to everything! Janey's such an inspiring teacher, living as she teaches. And Pna's Fish-song will we sing whenever we need "the" mood 
🙂 Thank you from the bottom of my heart 
<3 Perfect Blue Sky Rocks !!!!!
***
Säde Sonck – Student featured sing  & class students performing  'Happy Together'  at the workshop finale. Filmed by Terho Aalto
Mä olin jo ihan unohtanut miltä tuntuu laulaa. Se on ollut sellainen pitkän ajan haave, mistä on salaa unelmonut mutten ole ikinä aikuisiällä uskaltanut. Lapsenahan kaikki laulaa ja tanssii, miks me aikuiset unohdetaan että nämä asiat on meille luontaisia..
 Uskaltauduin Jane Kitton laulutunneille ja vitsit mitkä eväät tämä mimmi antoi. Enkä puhu nyt tekniikoista, vaikka niitähän periaatteessa tunneille mennään oppimaan. Vaan lähinnä sielun avaamisesta ja siitä tunteesta et mä voin ja saan laulaa jos mä haluun. Kiitos Jane.
 (Ja Terho videosta!) Vitsit mitä terapiaa, suosittelen ihan jokaiselle. Nyt sitten bändiä ja keikkoja odotellessa..
Translation
I'd forgotten what it was like to sing. It's been one of those long-term dreams that I've secretly dreamed of, but I've never had the courage to do it. All right, all right, all right, all right. All right, all right, all right. All right, all right. And I'm not talking about techniques, even though they're basically going to learn about classes. It's mostly about opening the soul and feeling like I can and I can sing if i want to. Thank you Jane. 
 (and terho from video! ) jokes what therapy, I recommend everyone. Now, for the band and gigs..
***
Leena Johanna – Student Finland
MEIDÄN EI TARVITSE KEHITTYÄ LOISTAAKSEMME – VAIN PÄÄSTÄÄ IRTI 
#
kaijajuurikkala
Tämä vuosi on alkanut kivasti uusilla elämänalueilla. Uskalla tehdä jotain mitä et ikinä uskaltaisi. Viime viikonloppuna osallistuin upean, inspiroivan artistin Jane Kitton laulutyöpajaan. Opettelimme kyllä laulamisen tekniikoita, mutta lähtökohtana oli löytää oma äänensä, oma persoonansa. Mitä olen ilman roolin ottamista esiintyjänä tai laulajana. Mikä on minun uniikki tapani olla maailmassa.
Jos kysyt vanhalta itseltäsi, mitä ohjeita saisit elämääsi? Mitä et jättäisi tekemättä tai kokematta? Kuka sinä Todella olet? Kun et ole äiti, puoliso, lapsi, ammatti….
Translation
We don't have to evolve to shine – just let go 
<3 #parrot
This year has started nicely in new areas of life. Dare to do something you would never dare. Last weekend, I attended a wonderful, inspiring artist Jane Kit's song workshop. We learned the techniques of singing, but the starting point was to find your own voice, your own person. What I am without a role as a performer or a singer. Which is my unique way of being in the world.
If you ask your old self, what instructions would you get in your life? What would you not do, or not? Who are you really? When you're not a mother, a spouse, a child, a profession….
https://www.youtube.com/watch?v=1AC45OyZw44
***
Jenni Kontinnen singing 'Let it be' Fantastic Performance Girl.. Filmed by Terho Aalto
SWEDEN
"Kitto är skolad i Melbourne genom en av Australiens exklusivaste sångskolor under ledning av John Farnhams röstcoach Viola Ritchie och är själv upplärd genom "Universal Modern Singing". Viola står bakom många av de främsta underhållarna inom Australiens skiv- och mediatopp inklusive Kitto."
Kursutvärderingar:
"Som sångelev hos Jane Kitto, upplever jag att jag får en coachning som är anpassad för mig som individ. Detta på ett sätt som jag tidigare saknat då jag gått hos andra sångpedagoger. Genom att ta sånglektioner vill jag utveckla mitt uttryck i det jag sjunger. Jane Kitto har gett mig en djupare insikt vad gäller andningsteknik. Jag har också fått ett nytt och roligare sätt att öva skalor. Sammanfattat så har jag fått "nycklarna" till att hitta min egen personliga röst."
Susanne N. KS Student
"Jane är den första sångpedagogen som lärt mig om mitt verkliga röstomfång, och med sin välkomnande värme låtit mig ta plats. Jag har hittat en ny kraft i min sångröst, och träffar toner jag inte trodde var möjliga för mig (jag har på bara några månaders lektioner flyttat från altstämma i min kör till sopran 1).
Det som Jane lär ut är något som likväl rutinerade som mindre rutinerade sångare/sångerskor har stor nytta av. För mig innebär lärdomarna en stabil grund att stå på när jag vill fortsätta lära mig att bli en bättre sångerska."
Sara F. KS Student
"Först vill jag bara säga tack. Jag känner att de tre lektionerna gav mig inspiration och motivation. Det gav mig några grundläggande övningar för sång och bra verktyg när det gäller att öva hemma. Det var inte för mycket, men tillräckligt för att göra det möjligt att faktiskt öva dem från vecka till vecka och jag tycker att du gav bra / tydliga och enkla instruktioner om hur man tränar och varför var och en av övningarna är användbara ."
Ulf H. KS Student
"If you want to better connect with your breath, your voice, your personal expression, singing and soul, I warmly recommend the genuine, warmhearted, true and spiritual singer, Jane Kitto. In her classes she guides you through any level with encouragement and with greatest care. Truly committed to share her knowledge and experience she will empower you with her contagious energy and love."
Lo Kivikas KS Student
"Sång coachen Jane Kitto arbetar med en kreativ och dynamisk undervisningsmetod som gör sånglektionerna lustfyllda och inspirerande. På endast tre lektioner lärde hon mig grundläggande röst- och sångteknik och gav mig redskap att fortsätta öva på egen hand. För mig som glad amatör var det en mycket lärorik och uppmuntrande erfarenhet. Proffsigt!"
Dessi Georgiadou KS Student
"Jag har en blandad erfarenhet sedan tidigare av att sjunga, i band, i kör och genom privata lektioner. Men de erfarenheterna har varit utspridda under flera års tid och jag har verkligen känt att jag har saknat en viss baskunskap i sång som gjort det svårt att gå vidare och utvecklas på egen hand. Det jag tycker är fantastiskt med Jane är att hon förmedlar på ett roligt och inspirerande sätt kunskap inom sång som har gjort att jag verkligen kunnat gå vidare med min sångträning. Jane kombinerar också på ett bra sätt teori och teknik med hennes egen entusiasm för sång och musik. Det gör att jag fått med mig mycket mer än bara det tekniska utan också kommer från lektionerna med nya sätt att se på de låtarna vi sjunger och min roll i att förmedla en viss text och en känsla. Efter några timmar med Jane har jag fått  nya verktyg att använda när jag tolkar låtar och arbetar med min egen röst, och jag vet att jag kommer ha en stor nytta av det jag lärt mig av Jane. Jag kan varmt rekommendera Jane till alla som vill utvecklas i sin sång oavsett vilken nivå de ligger på!"
Malin. KS  Student