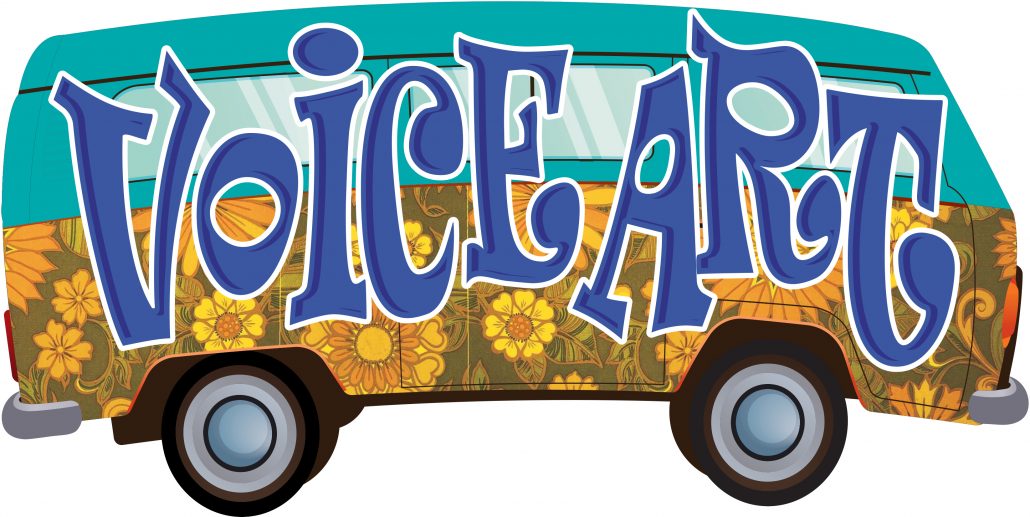 Logo by Robert Gale, Sydney Australia
ACCREDITATION School Masterclasses / Workshops / Vocal Training Individual & Group Classes
SWEDEN Kulturama Medborgarskolan Kunskapsskutan 
UNITED KINGDOM ACM Guildford Academy Of Contemporary Music
AUSTRALIA Charles Darwin University – Career Presentation & Performance including Student participation Feb 2018
FRANCE Music Academy International 
ESTONIA Heino Eller Tartu Music College May 2018
FINLAND  The Voice Van Masterclass Nooras Wine Bar (January 28/29 2018)
See Student testimonials below. 
MASTERCLASS VOICE TRAINING WITH AUSTRALIAN VOCALIST KITTO (PERFECT BLUE SKY) How the masterclass works? It's an esthetique spatial way in singing to include all types of vocals and personalities at various levels from beginner to advance! Just like learning to ride a bike or drive a car or doing exercise i.e sit ups etc using muscle memory and repetition until we earn it into our physical body. Anyone can do it. It's more of a sport approach to physical training.
A weekend masterclass is divided into 2 parts. The first day is training in correct breathing, vocal sounds & shapes, Arpeggio scales and discuss-discover how to serve the song and sing it from your own personality hence "I SING TO BE MYSELF"!
The second day is revision of all we have learned from the previous day before and then to assemble the student vocalists as back-up singers, lead or both and each have a chance to do either whilst accompanied by myself on guitar and backups.
It's an amazing feeling to create your voice in this environment safely and confidently in a real music atmosphere. It's a gift from the student to themselves to find their life expression through singing. You won't regret it!
Course overview
Beginners and experienced welcome.
This masterclass is hosted by Australian vocalist coach and lead singer of Perfect Blue Sky Jane Kitto. Her workshop focuses on "Universal Modern Singing". The principles are teaching the importance of how the breath is to a singing performance along with correct pronunciation, modulation, and eliminating "accent" glitches. Kitto also demonstrates how to connect with the song to reflect your personality "Sing to be yourself" and uses an esthetique and visualisation approach. This helps creates an immediate experience for the student in finding their own voice and inner confidence.
Correct diaphragm breathing and muscle control (1st lesson)
Arpeggio training
Vocal Strengthening and dynamics
Vowel, consonant and syllable pronunciation
Soft & Hard Palette, Falsetto
Power stance and vocal projection.
Posture and poise interacting chin, mouth, head and shoulders.
Concentrate on "How to Load" the words, phrasing and where to breathe between the song lines.
Finally there will be a performance song by individual students along with group class interaction (backing vocals).
All exercises are recorded by the students to keep as a training memento for life.
Host a maximum of 15 Students. Seasonal sessions are usually hosted in the late fall/winter (Scandinavia)
Private tuition – coaching is also available.
For more information & contact
E-mail: missnoise@kittorock.com
"Kitto is educated in Melbourne through one of Australia's most exclusive vocal schools led by John Farnham's voice coach Viola Ritchie. Viola is behind many of the premier entertainers in Australia's record and media industry including Kitto. "
"Kitto är skolad i Melbourne genom en av Australiens exklusivaste sångskolor under ledning av John Farnhams röstcoach Viola Ritchie och är själv upplärd genom "Universal Modern Singing". Viola står bakom många av de främsta underhållarna inom Australiens skiv- och mediatopp inklusive Kitto."
STUDENT TESTIMONIALS 2016 – 2018 (Some translated into english)
SWEDEN 
"Alltså, en sånglektion hos Jane liknar ingen annan lektion jag varit på. Det jag först uppfattade som något kaosartat upptäckte jag snabbt var en otroligt bra struktur och tanke där stora planscher på väggen mixades med inspelningar på mobilen och där varje lektion hade en tanke som bar sångtekniken framåt.  Jane är ett riktigt proffs! Hon skräddarsyr innehållet på lektionerna och bjuder på  en otrolig energi  som smittar av sig rejält. Jag har nu gått två av hennes lektionsblock och hoppas verkligen hon har tid med ett tredje mellan sina turnéer och spelningar. Anders Wallgren Student- THE Voice Van June 2018
"Jane Kitto's sånglektioner är helt enastående! Med stort personligt engagemang och bra metoder lär hon ut sångteknik som hon anpassar till den nivå jag är på, så att jag utvecklar mitt sjungande. Vi har också arbetat med texter, hur man gör en sångtext levande.
Med mig har jag fått bra verktyg som jag alltid kommer att ha användning för – röst och andningsövningar men även tips och råd om förberedelse inför ett framträdande."
Marianne Forsell Student- THE Voice Van June 2018
"Jane has provided me everything I would expect from the singing lessons, and more. She explains everything in a good way which makes it easy to apply in practice, and I've gotten lots of good tips and feedback. Most importantly though, I've now got several excercises I can do on my own, wherever I am, to further train my voice. She's also a very fun and welcoming person, which makes the lessons even better!"
Cheers! 🙂 Oliver W  Student- THE Voice Van May 2018
"Som sångelev hos Jane Kitto, upplever jag att jag får en coachning som är anpassad för mig som individ. Detta på ett sätt som jag tidigare saknat då jag gått hos andra sångpedagoger. Genom att ta sånglektioner vill jag utveckla mitt uttryck i det jag sjunger. Jane Kitto har gett mig en djupare insikt vad gäller andningsteknik. Jag har också fått ett nytt och roligare sätt att öva skalor. Sammanfattat så har jag fått "nycklarna" till att hitta min egen personliga röst." Susanne N. KS Student
"Jane är den första sångpedagogen som lärt mig om mitt verkliga röstomfång, och med sin välkomnande värme låtit mig ta plats. Jag har hittat en ny kraft i min sångröst, och träffar toner jag inte trodde var möjliga för mig (jag har på bara några månaders lektioner flyttat från altstämma i min kör till sopran 1).
Det som Jane lär ut är något som likväl rutinerade som mindre rutinerade sångare/sångerskor har stor nytta av. För mig innebär lärdomarna en stabil grund att stå på när jag vill fortsätta lära mig att bli en bättre sångerska." Sara F. KS Student
"Först vill jag bara säga tack. Jag känner att de tre lektionerna gav mig inspiration och motivation. Det gav mig några grundläggande övningar för sång och bra verktyg när det gäller att öva hemma. Det var inte för mycket, men tillräckligt för att göra det möjligt att faktiskt öva dem från vecka till vecka och jag tycker att du gav bra / tydliga och enkla instruktioner om hur man tränar och varför var och en av övningarna är användbara ."  Ulf H. KS Student
"If you want to better connect with your breath, your voice, your personal expression, singing and soul, I warmly recommend the genuine, warmhearted, true and spiritual singer, Jane Kitto. In her classes she guides you through any level with encouragement and with greatest care. Truly committed to share her knowledge and experience she will empower you with her contagious energy and love." Lo Kivikas KS Student
"Sång coachen Jane Kitto arbetar med en kreativ och dynamisk undervisningsmetod som gör sånglektionerna lustfyllda och inspirerande. På endast tre lektioner lärde hon mig grundläggande röst- och sångteknik och gav mig redskap att fortsätta öva på egen hand. För mig som glad amatör var det en mycket lärorik och uppmuntrande erfarenhet. Proffsigt!" Dessi Georgiadou KS Student
"Jag har en blandad erfarenhet sedan tidigare av att sjunga, i band, i kör och genom privata lektioner. Men de erfarenheterna har varit utspridda under flera års tid och jag har verkligen känt att jag har saknat en viss baskunskap i sång som gjort det svårt att gå vidare och utvecklas på egen hand. Det jag tycker är fantastiskt med Jane är att hon förmedlar på ett roligt och inspirerande sätt kunskap inom sång som har gjort att jag verkligen kunnat gå vidare med min sångträning. Jane kombinerar också på ett bra sätt teori och teknik med hennes egen entusiasm för sång och musik. Det gör att jag fått med mig mycket mer än bara det tekniska utan också kommer från lektionerna med nya sätt att se på de låtarna vi sjunger och min roll i att förmedla en viss text och en känsla. Efter några timmar med Jane har jag fått  nya verktyg att använda när jag tolkar låtar och arbetar med min egen röst, och jag vet att jag kommer ha en stor nytta av det jag lärt mig av Jane. Jag kan varmt rekommendera Jane till alla som vill utvecklas i sin sång oavsett vilken nivå de ligger på!" Malin. KS  Student
Jane Kitto!! Jag fick chansen att ta sånglektioner av Jane, totalt åtta tillfällen. Jag har alltid älskat att sjunga och varit sugen på bli coachad för att få lite tips och förhoppningsvis utvecklas. Jag tvekade inte en sekund att boka in mig, när jag läste att Jane Kitto coachar på Scarecrow Music Group, denna fantastiska sångerska. Som coach är Jane oerhört inspirerande och engagerad, då hon tydligt brinner för sitt jobb och för musiken, och hon delar verkligen med sig av sin glöd. Hon fick mig att vilja lära ännu mer. Hon hade övningar som efter varje tillfälle blev mer avancerade och som följde vår utveckling på ett bra sätt. Vissa övningar fick oss att skratta och andra satte oss verkligen på prov. Bra variation på övningar helt enkelt. Jane har varit till stor hjälp för mig, både för hur min röst utvecklats och lärt mig diverse tekniker, men också för att jag har fått mer självförtroende när jag sjunger. Keep shining J! Lena-Marie Burrows fd.elev
SONGWRITERS 
Interpretation med dig Jane, har nog mer varit som en resa än en lektion. Vi jobbade mest med äkthet, att vara sann mot sin musik och sitt uttryck. Ditt arbetssätt var inte att blanda in en massa "dramatiska" uttryck, utan att komma närmare oss själva i vårt egna artisteri, vilket jag tycker var fantastiskt eftersom att vi är singer/songwriters, vi tolkar ju inte andras musik. Otroligt kul och nyttigt inslag med frågorna vi fick varje lektion om oss själva som artister och vår musik. Du är väldigt ödmjuk i ditt lärosätt och har en stor kunskap inom ämnet, vilket du verkligen delar med dig av! Jag är super nöjd med dina lektioner. Sofia L Kulturama
Jag tror att du är en stor inspiration och en stor toutor. Våra klasser med du har varit riktigt bra och jag verkligen känner att du har hjälpt mig att bli mer säker i vem jag är som artist. Många lärare talar om hur viktigt det är med unika och att du verkligen är den du är som artist, men då de ändå hamna försöker "form" dig efter sina egna preferenser. Med dig känner jag verkligen tht du har bara drivit mig vidare i min egen riktning. Vilket är awesome! Tack så mycket för dessa veckor! Mikael Z Kulturama
(ENG) I think that you are a big inspiration and a great tutor. Our classes with you have been really great and I truly feel that you have helped me become more confident in who I am as an artist. A lot of teachers talk about how important it is with uniqueness and that you truly are who you are as an artist, but then they still end up trying to 'shape' you after their own preferences. With you I really feel tht you've just pushed me further in my own direction. Which is awesome! Thank you so much for these weeks! Mikael Z Kulturama
Jag älskade dina lektioner. Du är en väldigt inspirerande människa och konstnär. Jag tror att din starkaste sida är att du är verklig och jordnära. Du är en god iakttagare, du vet hur man läser var och en av oss och genom att du alltid kunna ge oss feedback som matchar våra behov. Snälla, sluta aldrig dela dina berättelser! De är otroligt inspirerande och uppmuntrande. Det fina dina lektioner är att man aldrig kan förvänta sig vad du ska lära dig. Det kan vara en bra tips om en låt, ett bättre sätt att sjunga en anteckning, ett nytt sätt att spela gitarr eller en stor läxa om livet! Tack för att du är dig själv! kärlek, Eido F Kulturama
(ENG) I loved your lessons. You are a very inspiring human being and artist.  I think that your strongest side is that you're real and down to earth. You are a good observer, you know how to read each and every one of us and by that you're always able to give us feedback that match our needs. Please, never stop sharing your stories! They are incredibly inspiring and encouraging.
FINLAND
Recent Event – FINLAND Masterclass Weekend Workshop hosted at at Nooras Winebar, Hämeenlinna on Jan 27/28 2018. Big thanks to Gogo Rodeo, Nooras Winebar, Terho Aalto and most of all the fantastic & brave students who made it a first for Finland!
Marika Rita Student MC FI (Review 5*****)
If you'll ever get a chance to participate to the Masterclass workshop, hosted by these guys DO NOT miss it!!! I participated to the singing workshop in Finland and it was such a great fun and most of all I learned how breathing is the key to everything! Janey's such an inspiring teacher, living as she teaches. And Pna's Fish-song will we sing whenever we need "the" mood 
🙂 Thank you from the bottom of my heart 
<3 Perfect Blue Sky Rocks !!!!!
***
Säde Sonck – Student featured sing  & class students performing  'Happy Together'  at the workshop finale. Filmed by Terho Aalto
Mä olin jo ihan unohtanut miltä tuntuu laulaa. Se on ollut sellainen pitkän ajan haave, mistä on salaa unelmonut mutten ole ikinä aikuisiällä uskaltanut. Lapsenahan kaikki laulaa ja tanssii, miks me aikuiset unohdetaan että nämä asiat on meille luontaisia..
 Uskaltauduin Jane Kitton laulutunneille ja vitsit mitkä eväät tämä mimmi antoi. Enkä puhu nyt tekniikoista, vaikka niitähän periaatteessa tunneille mennään oppimaan. Vaan lähinnä sielun avaamisesta ja siitä tunteesta et mä voin ja saan laulaa jos mä haluun. Kiitos Jane.
 (Ja Terho videosta!) Vitsit mitä terapiaa, suosittelen ihan jokaiselle. Nyt sitten bändiä ja keikkoja odotellessa..
Translation
I'd forgotten what it was like to sing. It's been one of those long-term dreams that I've secretly dreamed of, but I've never had the courage to do it. All right, all right, all right, all right. All right, all right, all right. All right, all right. And I'm not talking about techniques, even though they're basically going to learn about classes. It's mostly about opening the soul and feeling like I can and I can sing if i want to. Thank you Jane. 
 (and terho from video! ) jokes what therapy, I recommend everyone. Now, for the band and gigs..
***
Leena Johanna – Student Finland
MEIDÄN EI TARVITSE KEHITTYÄ LOISTAAKSEMME – VAIN PÄÄSTÄÄ IRTI 
#
kaijajuurikkala
Tämä vuosi on alkanut kivasti uusilla elämänalueilla. Uskalla tehdä jotain mitä et ikinä uskaltaisi. Viime viikonloppuna osallistuin upean, inspiroivan artistin Jane Kitton laulutyöpajaan. Opettelimme kyllä laulamisen tekniikoita, mutta lähtökohtana oli löytää oma äänensä, oma persoonansa. Mitä olen ilman roolin ottamista esiintyjänä tai laulajana. Mikä on minun uniikki tapani olla maailmassa.
Jos kysyt vanhalta itseltäsi, mitä ohjeita saisit elämääsi? Mitä et jättäisi tekemättä tai kokematta? Kuka sinä Todella olet? Kun et ole äiti, puoliso, lapsi, ammatti….
Translation
We don't have to evolve to shine – just let go 
<3 #parrot
This year has started nicely in new areas of life. Dare to do something you would never dare. Last weekend, I attended a wonderful, inspiring artist Jane Kit's song workshop. We learned the techniques of singing, but the starting point was to find your own voice, your own person. What I am without a role as a performer or a singer. Which is my unique way of being in the world.
If you ask your old self, what instructions would you get in your life? What would you not do, or not? Who are you really? When you're not a mother, a spouse, a child, a profession….
https://www.youtube.com/watch?v=1AC45OyZw44
***
Jenni Kontinnen singing 'Let it be' Fantastic Performance Girl.. Filmed by Terho Aalto